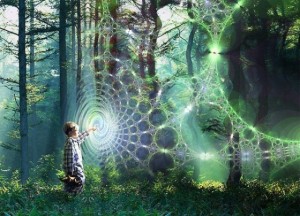 ii.26-27 Positive discrimination breaks the spell of samsara
2.26 Right Discernment is the means (upaya) of escaping the pain of samsara.
Positive discrimination does not bespeak the ravenous discriminatory mind that the Lankavatara Sutra so eloquently addresses—that is negative-discrimination. Rather, it is about developing the fine art (*Discernment Pro Arte ) of Right Discernment that properly distinguishes the true from the false. When the seeds of erroneous perception have burned-out, the stainless lens of a higher-perception reasserts its rightful position in the Unborn. This is akin to the Buddhist parable that states, "when the Tathagata is the Emperor, the Nirvanic Kingdom is harmonious and steadfast; when, however, the samsaric-skandhas usurp the throne, the kingdom descends into suffering (dukkha), misery and chaos."
2.27 The Seven-fold Wisdom of Discernment
There are seven-factors of mind modifications that need to be discerned:
Yearning for gnosis: the drive for the inner-knowledge that leads one to freedom.
Longing for freedom: there is no greater ideation than the longing to be freed from the diurnal wheel of samsara.
Desire for blissfulness: once the nirvanic quest is initiated, one yearns for the joy of consummation.
Finding satisfaction in active service: when the Bodhisattvic Resolve dawns in the mind of the adept, thus empowering others to acquire the same taste and thirst for liberation.
Transcending sorrow: once one applies the Wisdom of the Four Noble Truths to the equation of Self-Realization, then sorrow is placed in proper perspective and no longer becomes a determinative agency.
Conquering fear: the greatest ignorance that needs to be overcome; in particular the fear-generating agency of an imagination run amok.
A question of doubt: along the way to spiritual fulfillment, healthy doubt concerning obstacles standing in the way can be a good thing. Yet, once the Self-Recognition dawns, doubt about it can become your worst enemy.
*This is coined from a Spiritual Discernment practice I used to offer on the web years ago. Recently I discovered that my service, "Discernment Pro Arte", was described in a book about discernment back in 2000:
Discernment Pro Arte, a consultation service accessible through the World Wide Web, advertizes a "discernment tool," an "Awareness Frequency Enabler, which will help you chart the course of your spiritual journey from your earliest recollections to present-day ventures." This tool is used to "begin the process of selectively discerning what spiritual choices need to remain a part of your journey, and which ones you may need to shed to enable your Higher Self to be revealed." (Discernment Pro Arte 1997) [Affirming the Touch of God: A Psychological and Philosophical Exploration of Christian Discernment, pg 4. Evan B. Howard.]