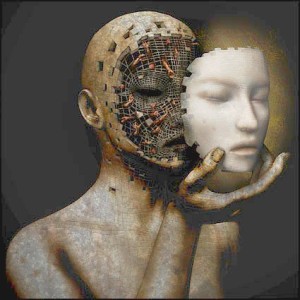 3.27 The clouded-mind wearing the false-face of egotism thinks that it is the doer; in actuality the discharge of the three gunas initiates all natural-activities.
The three gunas (calmness, restlessness, inertia) is the natural instigator of activity. The egotist believes that he/she is the natural creator and agent of action behind all activity—in a real sense blinded by a false face of power. Behind the mask is an agent who is very dependent upon a vast array of proclivities that are the natural mechanisms (a play of the gunas) that induce a given set of apparent self-motivated actions.
3.28 Arjuna, the illumined mind recognizes the natural proclivities of the gunas and is never attached to them. Such a one recognizes that qualities naturally depend upon other qualities and simply remain detached from their natural functions.
Certain natural qualities (the interplay between the gunas) occur of their own accord and are not initiated by any "doer". The illumined Mind is aware of these natural instances and is never captivated by their actions and reactions that occur spontaneously. In many instances these actions are sparked by hidden genetic-karmic mechanisms and no more.
3.29 Those still attached to the natural proclivities of the gunas remain  bound to their natural effects. Yet, one who is aware of these natural functions should not disturb the mind of the lesser-able who are totally ignorant of their nature.
"This injunction of the Gita does not mean that a saint should not awaken people at all; they should be gradually roused, and instructed in higher principles only when they are receptive—when they begin to wonder about the mysteries of life, either as a result of introspective thinking or of worldly misfortune and material disillusionment" (Yogananda).[Burroughs, Kendra Crossen (2011-05-10). Bhagavad Gita: Annotated & Explained (SkyLight Illuminations) (Kindle Locations 1729-1732). Jewish Lights Publishing. Kindle Edition.]
3.30 Remember to daily dedicate all your actions to me. If you do rest assured that you will remain centered in the Self (Atman) and will not be afflicted by any feverish longings, selfishness, or ego-spawned grief.  
Remaining centered in the Unborn and dedicating all in a spirit of deep gratitude, one is freed from the natural effects of egotism: grief, remorse, guilt, mad desire, and even ego-directed thoughts and conceptualizations.  Paramahansa Yogananda equates this as, "The material man is an ego, plus worries; the divine man is a calm soul, plus the eternal joy of Spirit."