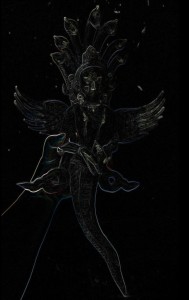 The world is matter to be transformed to liberate concentrated energy of the Wise Men—a psychic energy capable of attracting the Powers from Beyond, the Superior Unknown Beings, the Lords of the Cosmos. The institution of the Black Order had no political or military significance; its raison d'être was purely magical…(from 'The Morning of the Magicians')
The Black Ngagspa was a member of the notorious Black Order, an arcane group that had no other purpose but to obey the Dark Lord of Thule. After signing a pact (and thus sacrificing his immortal spirit) with this Evil Power, he was able to produce materialized images after invoking the 'Mirror of Darkness'. Peering into this twisted thing of evil, the Black Ngagspa was able of ascertaining the whereabouts of Schäfer after he miraculously escaped from the claw of his wicked grip. The Black Ngagspa soon realized that he had discovered the location that housed the prize of his malevolent quest; for the Iron Stupa imprisoned at its apex the all-powerful "Vril". He was anxious to discover under what form this cosmic-substance had become concretized.  Harnessing all the forces of his malignant will, the Black Ngagspa created a tulpa—a doppelganger of himself—a grotesque thing that gripped a horrific-phurpa with the intent of shredding Schäfer to pieces upon initial contact…
In a swift counterattack, Blessed Tara verte transformed herself into the shape of another Phurpa, one that bore the strength of meteoric-iron. As soon as the doppelganger began to materialize, the Blessed Phurpa sprang into action—stinging the very air with the Mantric Syllables:
OM RULU RULU HUM SHOA HUM
OM BHASER KILI KILAYA SARVAR
BING NE BAM HUM PHET!
The demon-doppelganger cringed with fear as it was lured into a large forming-triangle which was quickly fashioned into an encasing-yantra from which there was no-escape:
At the core of the early-formation of the Nazi party was the Thule Society, an occult group that believed their power sprang from the mythic land of Hyperborea-Thule. There are accounts that the dark mysticism of "Thule" carried-over into the eventual sinister-spiritual formation of the SS. Hence, there was known to be a "Black Order" that spiritually oversaw and influenced the likes of Heinrich Himmler himself. The Black Ngagspa in the narrative is a member of this Black Order—an evil monk; their actions are always an inverse—an abomination of true wisdom. As mentioned earlier, his dark powers include the ability to create a "tulpa", a mind-created being; the one created in the narrative bears in his arsenal—a phurpa—a mystical-dagger of ancient Bön origin.
The Dhyani Buddha, Amoghasiddhi, symbolically wields what is called his Adamantine-Sword; another form of this mystical-weapon is the Phurpa. Amoghasiddhi has a strong connection with the Phurpa as a Wrathful Form of himself, Vajrakilaya, (more on Vajrakilaya in the next segment) who takes shape to counteract the karmic dispositions of negative influences, mainly demons. The Phurpa in its Sanskrit form is 'kila' or 'kilaya'. Here, his consort, Tara verte also forms into a formidable Phurpa—shaped much like today's accompanying image at the top. This particular phurpa is in the shape of a naga-being with a most stinging tail. The naga usually appears in some form in all phurpas, usually as descending tails coming to a sharp point at the end of the triangular blade. In point of fact, the Phurpa IS a Divine Being in itself.  In this sense, it is no mere static-dead piece of iron, but truly a living and vibrant mystic-force. Hence, the phurpa-practitioner needs to be conscious of this Reality and always approach this living ritual force with a great deal of respect and caution before one dare handle-it. Traditionally, these "banning-daggers" are made of iron (preferably in meteoric form) in order to subdue and overpower demonic forces. It's most interesting to know that for the practicing Buddhist who wields the Phurpa, the intent is never to destroy, but to subdue and neutralize the negative force—much like sending a computer virus off to quarantine. The following is a description of one such ritual:
The Phurpa-Priest begins by reciting a dagger-sharp Phurpa mantra. He becomes Phurpa, the dagger, the god, the dagger-deity, whose fine senses will in the following enable him first to identify the evil bringing demon and to localize it. The mantric syllables and the mudras join in a stream and the Phurpa master starts to lure the demon into the triangle, into the yantra from which there is said to be no escape. For a bait, for a lure he uses a "paper effigy" putting it in the centre of the triangle. This allurement, methodically the most critical phase of the ritual, may last an hour or more. The dagger man writes names and syllables for this purpose on the effigy. He sprinkles it with blood of varying degrees of reality. He rolls the dagger between his palms. He points It to the sky and to the ground and moves the Phurpa along with its black silken flag behind his back from the right into the left hand. He moistens the three-edged blade with water. Then he strikes: he knifes the effigy. He hammers it to death. He cuts the effigy to pieces. He again recites an igniting syllable chain. Finally he burns the remains of the effigy up and on the level of the perceivable the ceremony becomes extinct. [Dagger Blessing, The Tibetan Phurpa Cult: Reflection and Materials, Thomas Marcotty, 1987, pg. 59-60]
Once again here, the demon itself isn't destroyed, only its evil-karmic tendencies. What can happen is that the demon or other evil influence becomes liberated. The same resource reports the following:
The priest needs a very special concentration (Special Compassion) in order not to hurt the sentient being. He only kills its bad qualities. Would he not succeed so far, the ritual murder would amount to common murder followed by very serious karmic consequences… 

'Lord Buddha, in one of his former incarnations, once killed a black magician who intended to murder 500 merchants. This way Lord Buddha not only saved the lives of the merchants. He also averted a terrible Karma from the magician. But also in this case Lord Buddha only destroyed the magician's bad qualities: his hatred and lust, both born from ignorance. Buddha did all this with Special Compassion and thus acquired great Merits' (Ibid, pg. 5)
These liberating ceremonies also usually end in PHAT—meaning to "release yourself from these evil tendencies."