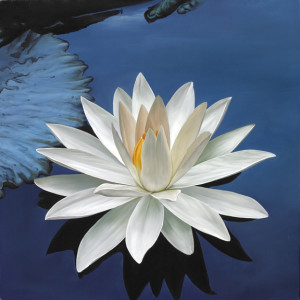 There is no-thing in the Unborn Mind, but its own pure light.
Though this truth shines freely with its own auspicious luminosity, there for anyone to see, vast amounts of defilements hinders the everyday worldling from perceiving this truth as self-verifiable.
Only the noble mind, that has penetrated the thin crust of the five skandhas in one firm transcendence of mind to Mind, exemplifies thus the immensity of a focused spiritual power, one needed as such by its user, as to disperse the clouds of ignorance and want of anything becomed – and from this supra-positional point of no form. or emptiness, directly look into what is its own brilliant true nature.
There is not one single sentient being, that doesn´t depend on this light, whether it comes in creating a single thought, emotion, memory or a myriad appearances of motion or stillness.
This is a mystery of mysteries, Its innermost truth even hidden to the gods themselves, as they slowly drown in the heavens of complacency and creational discomfort that comes as a karmic residue from that divided power which creates worlds and even universes.
It is one of incomprehensible depth, and way too hard for most to penetrate, recall and accept. For this reason alone, countless bodhisattvas work tirelessly, with this suprapositional light as their most trusted ally, as spiritual emissaries between the supra-mundane and mundane; as to show its singular ability to ascend the mind of the sentient being above its dark cloud of birth and death, and into the absolute reality of its true Mind´s noble wisdom that is never born or created, and hence, one not ever subject to decay and death.