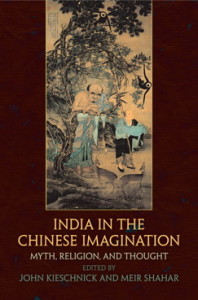 Finally, the Blessed One led Ananda and, walking in space, came to the debate hall. The Buddha took a seat and briefly taught about suffering, emptiness, Impermanence, and the perfections (paramila) to the assembly, but the women did not accept [his teaching].
Among the group of women, a prostitute, lovable (Keai) by name, said to the women: "The ascetic Gautama has no desire by nature, and people say that he is impotent. That is why he denounces desire in public. If his bodily pans are complete, he should clearly show us that he has this mark like the Jains did." [If he does so], we will become his disciples. If he does not have this mark, he denounces impurity in vain. This person without an organ has no desire by nature; why would he not preach that desire is impure?"
[The prostitute] having thus spoken, the Tathagata magically created an elephant. A white lotus emerged between the legs of the elephant and touched the ground. Having seen this, the women burst into laughter. They said to one another: "The ascetic is good at conjuration." The Buddha also magically created an image of a horse king, who extended his retracted organ. It hung like a beryl cylinder and reached his knees. Having seen it, the women said even more that it was conjuration.
After that, the Buddha dismissed the entire audience and confronted the prostitutes by himself. The women laughed loudly and said: "Ascetic, do you have the bodily pan or not?" The Buddha said: "l have a complete male body. I am a sound".  At that time,  the Blessed One opened his undergarment (nihuanseng, nivasana). [The women] saw the Buddha's body, [which was] entirely flat. Then, [his organ] gradually emerged like that of a horse king. When it first appeared, it was like the bodily organ of an eight-year-old boy, and it gradually grew into the shape of that of an adolescent. Seeing this, all the women rejoiced. Then the hidden organ gradually grew [and became] like a cylindrical banner of lotus flowers. In each layer there were ten billion lotuses; each lotus had ten billion jewel colors; each color had ten billion emanation Buddhas: and each emanation Buddha was served by ten billion bodhisattvas and a boundless assembly.
Then the emanation Buddhas unanimously criticized the faults of the bad desires of the women. Upon hearing this, the prostitutes were overcome by shame and submitted to the Buddha's teaching. Listening to the Buddha's sermon, they reached spiritual attainments of various degrees
From:
India in the Chinese Imagination: Myth, Religion, and Thought