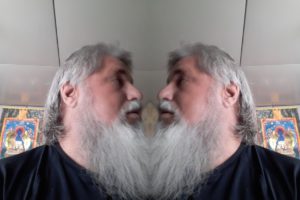 It's been quite an eventful year. I recollect writing about my father during the series, Journey to the Center of the Mind, how he was diagnosed with rectal cancer. After a few months of enduring endless anguish he died on Thanksgiving night, November 28th. My mother died soon after from complications associated with the dreaded Alzheimer's disease on December 18th. Needless to say this was a lot to have to undergo for myself and my brother and sister, something that will be revisited again in the spring since burial is impossible here in upstate NY during the winter months as the ground is frozen solid, especially with the harsh wintry conditions already being endured during this December. Somehow through it all I experienced an ever abiding inner-strength to sustain me. The Unborn path is indeed very strengthening for the spirit and it is always the case that It helps to sustain one's energies, even during the ongoing onslaught of samsara, somehow making one even stronger during that process.
The new decade is upon us and I've been contemplating changing the format here at Unborn Mind Zen. After eight years of writing numerous series, there have been 70 in total with thousands of pages being written, I may perchance choose to follow the Zennist's lead and write blogs similar in context. Of course the theme will always be associated with the Unborn. Whatever will unfold I'm sure that the next decade will present numerous challenges, in particular with how society itself has so radically changed, and not for the better. The new "Roaring Twenties" will be led by the Millennials and they are certainly not in league with past representatives like the Greatest Generation. It's going to be a rough ride for sure. This is also the case with today's contemporary Buddhism as well. Its pure materialistic now, coated with a sugary and wimpy yen for focusing exclusively on psychophysical baggage associated with pampering one's feelings and sexual identity/fulfilment. May all Buddha's, Bodhisattvas, and Dharma Protectors please come to our aid!
And so dear readers, I leave you now with the Dharma-series just concluded, The Great Perfection of the Unborn Mind: A Book of Privy Counseling. There were 22 blogs for this particular and auspicious series, representative of a form of Major Arcana like the Tarot, but this time emphasizing the 22 Major Arcana of the Great Perfection of the Unborn Mind. A most suitable conclusion for our blog-series in summa, as it is a composite of the best of them.
May the Great Unborn guide and protect you in all your endeavors for the coming decade.
Vajragoni