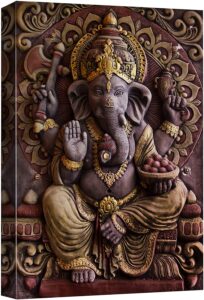 Lord Ganesha is the elephant-headed deity in the Hindu pantheon. He is perhaps the most beloved of the deities and is thus properly invoked in the beginning of the Dāsbodh (subsequent blog). He is primarily invoked as the Great-Remover of all Obstacles in the adept's path and is the sponsor of success in all creative endeavors. The elephant-head represents the Divine Atman and the human body is representative of being rooted in and master of the earth. The Gansesha hierography is quite fascinating. After Ganesh's creation by the bathing Parvati, who wanted a guard for her chamber door, Ganesh took his position as sentinel. Shiva came to the door a second time and demanded to see his wife, but Ganesh refused him entry. Shiva was forceful, but Ganesh stood firm in defense of his mother. In a terrible rage, Shiva struck Ganesh's head from his shoulders.
Parvati was horrified when she saw her son's body and unleashed her fury on Shiva. Shiva repented and went out to seek a replacement for Ganesh's head. He took the head of an elephant facing north, as northward is the direction of wise journeys, and placed it on Ganesh's shoulders.
He resurrected the child and gave him great power, taking him as his son and saying he must be worshipped before any other deity.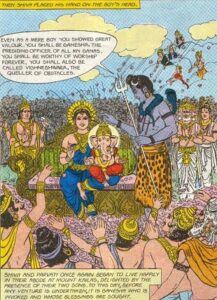 There are 32 Avatars of Lord Ganesha:
Lord Ganesha is also recognized within Buddhism and is depicted as the Buddhist deity Vinayaka
Lord Ganesha is also assigned the highest pantheonic position in Buddhism where the deity is considered to be a form of Lord Buddha. For our purposes in this series he stands as a resilient Dharma-Protector barring any spiritual obstacles that may rear their ugly heads.