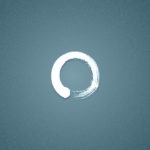 Nothing in this life is Zen. Not your assumed birth, nor an inevitable cessation of your present biological matrix. One´s dreams, desires, ideas, and imaginations are not Zen. Faith in Zen, or the dharma, is not Zen. This world, or the perceived beyond, is not Zen, nor are the various bodily positions, or meditative states - Zen. No god, or God, is Zen or the root-source of zen. No Buddhas are zen. Nor any ritual of any sort or age of reverence is zen. All this is merely relativistic existentialism,
Read more [...]
[* It needs to be stated at the outset that the Sagathakam as translated by Suzuki oftentimes just stated "Chapter/Verse", in which the reader was forced to go back into the main text to discover the full verses. What follows for this series is taken from the Complete Lanka and Discussion which can be found in our library. At the time in 2002, each chapter of the Lanka had to be copied down in its entirety since no such translation of Suzuki's Lanka was available on the net. I copied the
Read more [...]
"Once again, Śāriputra, on the basis of the view that there is decrease, these beings further entertain three types of views. These three types of views and that view that there is decrease are inseparable, like [the threads of] a gauze net. What are the three views? 1. The view of annihilation, that is, that there is absolute exhaustion. 2. The view that there is extinction, that is, precisely nirvāṇa. 3.The view that there is no nirvāṇa, that is, that this nirvāṇa is absolute quiescence.
Read more [...]
This is the sole gospel of Mara, the Evil One, so pay careful attention; Within each seed granted your self, there is a promise of a beautiful flower. One of completeness and bliss or even vengeance and destruction. In the end, when all things are said and done and you find yourself confused and suffering try to recall that pure evil dwells not in any of these positions of the divided Mind; but solely in the Body of Perfect Deception. Once upon a time, in a realm and reality,
Read more [...]
Carl Van Brunt (Hakeda) CHAPTER TWO The Correction of Evil Attachments I.THE BIASED VIEWS HELD BY ORDINARY MEN There are five kinds of biased views held by ordinary men that may be discussed. Hearing that it is explained in the sutra that the Dharmakaya of the Tathagata is, in the final analysis, quiescent, like empty space, ordinary men think that the nature of the Tathāgata is, indeed, the same as empty space, for they do not know [that the purpose of the sūtra is to uproot
Read more [...]
"O Bhagavat! We have always thought we had attained complete nirvana. We now realize that we were ignorant. Why is this? We should have attained the wisdom of the Tathāgatas. Yet we were satisfied with little wisdom! "O Bhagavat! Suppose there were a man who came to the house of a close friend and went to sleep after becoming intoxicated with wine. The intimate friend, having to go out on official business, sews a priceless jewel into the inside of his friend's garment and, giving
Read more [...]
The thing that strikes me most about the parable in Chapter 4, the "'Buddhist' Prodigal Son", is that it is told to the Buddha (instead of vice-versa) by four of his most loyal disciples, Subhuti, Maha Katyayana, MahaMaudgalyayana and particularly by Mahākāśyapa. Two of them are well-known, Subhuti, who often plays a prominent role in sutras, in particular the Diamond Sutra, and of course, Mahākāśyapa, who was the first one to receive "Dharma-Mind transmission" from Gautama
Read more [...]
At that time it occurred to the great assembly of twelve hundred śrāvakas, arhats free from corruption, beginning with Ājnāta kauṇḍinya, and the other monks, nuns, laymen, and laywomen who had set out to become śrāvakas and pratyekabuddhas: "Why has the Bhagavat just now so earnestly praised skillful means? For what reason has he declared that the Dharma that the buddhas have attained is very profound and difficult to understand? Why has he said that their intention in adapting their
Read more [...]
You are in truth, pure light. No more, no less. The only reality of this light is NOW and nothing else. Do not mistake this, NOW, to be the temporal moments of your body-consciousness, for its true nature eludes the three times of the evil one. This NOW and this light knows no time and hence no birth or death. All the treasures and all the wisdom of what your true nature contains are solely found in this light for you are beyond all doubt, this light and this light is the true you,
Read more [...]
The Way of the Unborn is not burdensome Just let-go of partiality Be neither positive nor negative Stay illumined If you are off by a hairsbreadth Nirvana and samsara are infinitely divided Remaining centered in the Unborn is our Natural Stateless State of Being. It all becomes burdensome when we self-impose conceptual limitations on THAT which is devoid of all conceptual constructs. Making choices is the root of the problem. If the Mind becomes partial, then all hell will break
Read more [...]